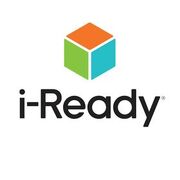 What is i-Ready?
i-Ready is an online program for reading and/or mathematics that will help your student's teacher(s) determine your student's needs, personalize their learning, and monitor progress throughout the school year. i-Ready allows your teacher(s) to meet your student exactly where they are and provides data to increase your student's learning gains. i-Ready consists of two parts: Diagnostic and Personalized Instruction. i-Ready is based on Ready. i-Ready is how Curriculum Associates got into the digital age. i-Ready was released on 2009 and being fully complete on 2011.
i-Ready also includes:
Provides user-friendly dashboards and clear reports with actionable data that give teachers a foundational understanding of students' strengths and areas of need

Enables educators to confidently determine each student's on-grade level proficiency based on state and national standards
Delivers online lessons that are organized by grade level and that provide tailored instruction and practice for each student to accelerate growth
Supports teachers with in-the-moment resources for remediation and reteaching at individualized, small group, and whole class levels of instruction
Is research-based and proven to work—students who use i‑Ready Personalized Instruction make remarkable learning gains
Includes dedicated service and support at every step of the implementation journey through i‑Ready Partners
Includes interactive characters that provide help with assignments along the way.
Has diagnostics created by experts that show student growth and student improvement
Includes fun learning games that give you extra practice at a strategy or skill. This games can be accessed by using the coins that you earn from completing lessons. (Each lesson give you 20 coins).
i-Ready also includes a feature that allows both teachers and students to keep track of student progress. It allows you to see how many lessons you have done, your pass rate, and how many total number of minutes you have spent on i-Ready lessons.
i-Ready Diagnostic:
The i-Ready Diagnostic is an adaptive assessment that adjusts its questions to suit your student's needs. Each item a student sees is individualized based on their answer to the previous question. For example, a series of correct answers will result in slightly harder questions, while a series of incorrect answers will yield slightly easier questions. The purpose of this is not to give your student a score or grade, but instead to determine how best to support your student's learning.
i-Ready Personalized Instruction:
i-Ready Personalized Instruction provides students with lessons based on their individual skill level and needs, so your student can learn at a pace that is just right for them. These lessons are fun and interactive to keep your student engaged as they learn. These lessons also contain characters that assist you with the lesson along the way.
Subjects:
i-Ready has 2 main subjects named reading and math. For both individual subjects, there is provide a diagnostic that shows how well students are doing and how well they should be doing in their academic performance.
Website
https://login.i-ready.com/ (Login Website)